What Is Social Security Disability?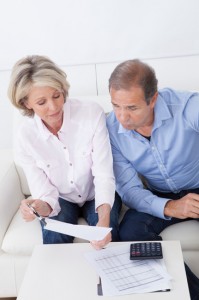 Social security disability insurance (SSDI) is a type of insurance that is intended to provide financial support to individuals who are unable to work because of a disability. SSDI benefits help people who have long-term disabilities. Short-term disabilities are covered by other types of insurance including short-term disability and workers' compensation.
Qualifying For SSDI
It is important to understand that social security disability insurance benefits are only available to people who have worked in the past. Workers have deductions taken from their paychecks in order to pay for this insurance coverage. The federal government requires that employees work a certain number of hours per year in order to receive credits that go toward SSDI benefit eligibility.
People who are under the age of 28 must have worked at least one and a half years before requesting SSDI benefits. The minimum number of years worked requirement increases with the age of the disabled person. For example, a person who is 42 must have worked at least five years in order to qualify for SSDI benefits.
Work completed by individuals who are applying for SSDI benefits must also be recent. The general rule is that a person must have worked at least five out of the previous 10 years. However, people who suffered from a permanent disability at a young age may be exempt from this rule.
Spouses and dependent children may also be eligible for disability benefits if the main income earner in the household becomes disabled. Spouses may be eligible if they are over the age of 62 or are considered to be the primary caretaker for a minor child.
The most important eligibility requirement for SSDI benefits is the medical requirement. A person who is disabled and cannot work needs to prove that they suffer from a disability. This means that the Social Security Administration will request official records of the date the disability was diagnosed and any treatment that a person is receiving for the disability. A licensed medical professional will have to provide this information.
Differences Between SSDI and SSI
SSDI requires that an individual work a minimum number of years in order to be eligible for benefits. Supplemental security income (SSI) benefits are paid to people who have a household income that falls under a certain threshold. These individuals do not have to have worked in the past, and some people who do not qualify for SSDI benefits because they have not earned enough work credits are able to receive SSI benefits to help pay for basic necessities.
People who apply for SSI benefits cannot have more than $2,000 in assets. Eligibility for SSI benefits often indicates that a person is eligible for Medicaid, food stamps and other types of need-based assistance.
Getting Help With an Application or Appeal
Understanding the complicated process of determining eligibility for SSDI benefits and filling out the application is difficult for people who do not have legal training. Applying for SSDI benefits is a long process that can result in a rejection if paperwork is not filled out correctly or filed in a timely manner. I have ten years of experience in social security cases and can assist in making the process much less stressful than going it alone. I also provide free consultations to let clients know more about how their case will be handled. Contact me today to get started on your case.
Testimonials
Thank you, thank you, thank you for your help. I could not have done it without you and now I have a chance to get my life together again. I will always be grateful for you.
After I got denied I was ready to just give up but Ruth Kolb and her staff explained how the rules worked and why it made sense to keep trying. I am so glad I did because now I am able to take care of myself and I have health insurance. I am hoping I may still be able to go back to work but at least for now I have money to pay my bills.
I was not sure where to turn until a friend told me to call you. I am so glad I did because each step of the way you were there for me. Thank you so much for helping me with my case. I hope I can tell someone else to call you!
Dear Ruth – Thank you again for all that you and your staff did for me and my family. I don't know what we would have done without your help. God Bless You and thank you from my whole family.
Everyone at Ruth Kolb Law Office was professional and courteous. My lawyer Ruth was very kind and always answered my questions. I felt like she cared about me on a professional and personal level. The whole process was very overwhelming, so I really appreciated her caring. Rose and Karen were great too!
I really appreciated the help Ruth Kolb Law Office offered in filling out all the forms and pointing out things to include that I would never have thought about. Ruth and James were always responsive and helpful every step of the way.
I cannot say enough about everything they did for me. If anyone asks me to who to call I say, call Ruth Kolb! I tell them not to try to fight social security on your own. I am just so grateful.
A friend of mine suggested I contact Ruth Kolb Law Office and I am so grateful I did. Before then, I had no idea if I was even eligible for disability benefits. During the entire process, James was my main contact. He provided all of the information and direction necessary to complete the required forms and answered all of my questions. James was very knowledgeable, accessible and followed through until my case was resolved. I cannot THANK YOU enough for all of your help and expertise. I am so appreciative and will not hesitate to refer you to others who may need your services.
Thank you so much for all of your work on my case. I would have been lost trying to do it on my own. I am so glad I am finally getting benefits and some of my worries are over.
I had no idea what benefits were available or even what program to apply for. The personal attention was what mattered the most to me. Just knowing I had someone on my side made the whole process a little easier to take. If you need help, Ruth Kolb Law Office is the place to go.
I didn't really think I would need an attorney and I was so upset when I got my denial. Ruth Kolb helped me get the medical information for my reconsideration appeal that I needed to convince social security that I should get benefits.
I will never forget what you did for me. You will always have my great appreciation and deep gratitude.